Friends, it's that time again: time for our summer hiatus. Those of you who have been longtime readers know that Kelsey and I have been on a journey these past two years to begin transforming The AC into a community-owned space, one that can reflect more than just the teacherly musings of two White women working in central Canada. That process has been up and down, but 24 months later, we have a plan. We will share more details about that plan as our work evolves, but we will say now that it rests on two principals: turning this space over to a broad range of new voices, and setting those new voices up for success by providing as much material support as we can.
Those two things – ceding space for new voices, and holding that space with proper support so that those voices can stand up and be heard – are essential components of all great pedagogy. I learned this from someone our community of theatre and performance scholars lost on 4 October last year: Dr Catherine Silverstone, Professor of Contemporary Theatre at Queen Mary, University of London.
Although I was *technically* senior to Catherine when we worked together at QM in the early 2010s, I instantly found her to be a teaching mentor. Cat was, simply, the finest teacher I've ever known.
It was therefore my honour and privilege to be asked, shortly after Cat's death, to prepare a tribute to her for Contemporary Theatre Review's Backpages section. I knew right away that the tribute had to foreground Cat the teacher, and I knew too that I had to involve her students in its making. In late October we gathered on Zoom, still wet with our tears, to share joyous memories of Cat's leadership inside and outside the classroom, her remarkable humility and grace, and her exceptional capacity for listening, learning, and making space for and with students (including student-peers like me).
I received the offprints of our finished work yesterday, and it's my pleasure to share (with permission) the text with folks here on the AC.
Read and remember a remarkable scholar and teacher; think of your own teaching mentors; and remember, too, the hard hard work we've all come through, knowing better days will come, and will come soon. See you in September.
– Kim and Kelsey
***
(To read this in print, or online as a PDF, please visit Contemporary Theatre Review [issue 31, numbers 1-2] via T&F journals here, or via your home library's holdings.)
Pedagogies of Care: Remembering Catherine Silverstone
By Kim Solga, with support from Mojisola Adebayo, Catriona Fallow, Caoimhe Mader McGuinness, Sarah Mullan, Anna Sereni, Ben Walters, and Joseph Winer
A hot summer evening, and I'm rushing; I'm late for dinner with my new colleague Catherine Silverstone. I should have arrived ten minutes ago, but I misjudged, as usual, the length of my journey, and now I'm running desperately from London Bridge station, rounding at speed onto Bermondsey High Street, panicking as the minutes tick by. What will she think of me, stupidly late for a meal she's arranged to help orient me to my new gig at Queen Mary? Sweat cleaves to me in the gently waning sunlight as I collide with bins and people along the pavement, finally arriving, panting, out of breath, mortified.
And there she is: sitting quietly at a window open to the breeze, with a glass of wine and her phone, patiently waiting. Instead of even a hint of frustration she offers me the biggest smile, a chair, her open arms. If I've inconvenienced her there's no sign of it; no sign of frustration or bother at all. I'm instantly calmer, and I'm instantly present to her. We begin to chat like old friends, even though we are not that – not yet anyway. But we will be.
This was the Catherine I knew: abundantly generous, consummately professional yet also high-spirited and cheeky, never less than fully human. No detail was too small for Catherine's attention; all the little things, as she knew, mattered. And so did every student matter because, as Catherine understood, from our students we have so very much to learn. So, when CTR approached me to craft a short remembrance for Catherine, I knew it had to centre her students—as she never failed to do. I've shaped the reflections that follow from memories shared by Mojisola Adebayo, Catriona Fallow, Caoimhe Mader McGuinness, Sarah Mullan, Anna Sereni, Ben Walters, and Joseph Winer during a chat on 30 October 2020. My heartfelt thanks to them all.
Good Times
Many peers knew Catherine as a passionate, eclectic scholar, as at home with Shakespeare as with Derek Jarman. Her students, however, know something more: that for Catherine, there was no hierarchy among the many elements of her labour. All were—as she would turn her favourite phrase, with a glint in her eye—"good times."
Jarman and Shakespeare were as important to Catherine as the work of preparing quality class materials, of attending (as Director of Teaching and Learning in the School of English and Drama at Queen Mary) to student concerns over water fountains and malfunctioning microwaves, of reading PhD chapters with such care that each sentence might warrant comments or track changes (something lovingly known as "being Silverstoned"). This equivalence was, for Catherine, political: nobody has the energy to interrogate the elitist structures separating "the Bard" from the amazing queer artists who follow if they haven't had a warm lunch or a proper drink of water. As HE teachers it was our duty to attend to it all.
What's at Stake?
Ben remembers Catherine asking him this all-important question during a supervision; it resonates with all of us, and "it will never be out of me," he notes. Catherine's politics as a queer feminist were everywhere palpable; her firm sense of social justice informed all aspects of her practice as a teacher, a colleague, a scholar and a leader. Anna recalls how important Catherine's sense of social justice was to her own decision, now, to pursue a career in human rights law; "If Catherine were in another job, she'd be a human rights lawyer!" Mojisola adds. For Catherine, politics was not a position one adopts; it was a practice one lives, folded and leaved into all aspects of being and working. At stake for her was the work of the political, not the glamour of ideology.
Anna and Mojisola remember that nobody was prouder of their queerness, more open about it, and yet for Catherine queerness was never about her, the work of anti-racist justice was never about her. Anna remembers Catherine's classroom as a safe space in which to "learn to love one's queerness"; Mojisola honours Catherine as someone with whom, as a Black woman, she felt safe "in terms of race," someone who never boasted about her allyship: "she just got on with it." She recalls that Catherine was always first to check her privilege as a white, educated person from a settler colony, always first to put her power to work for those with less.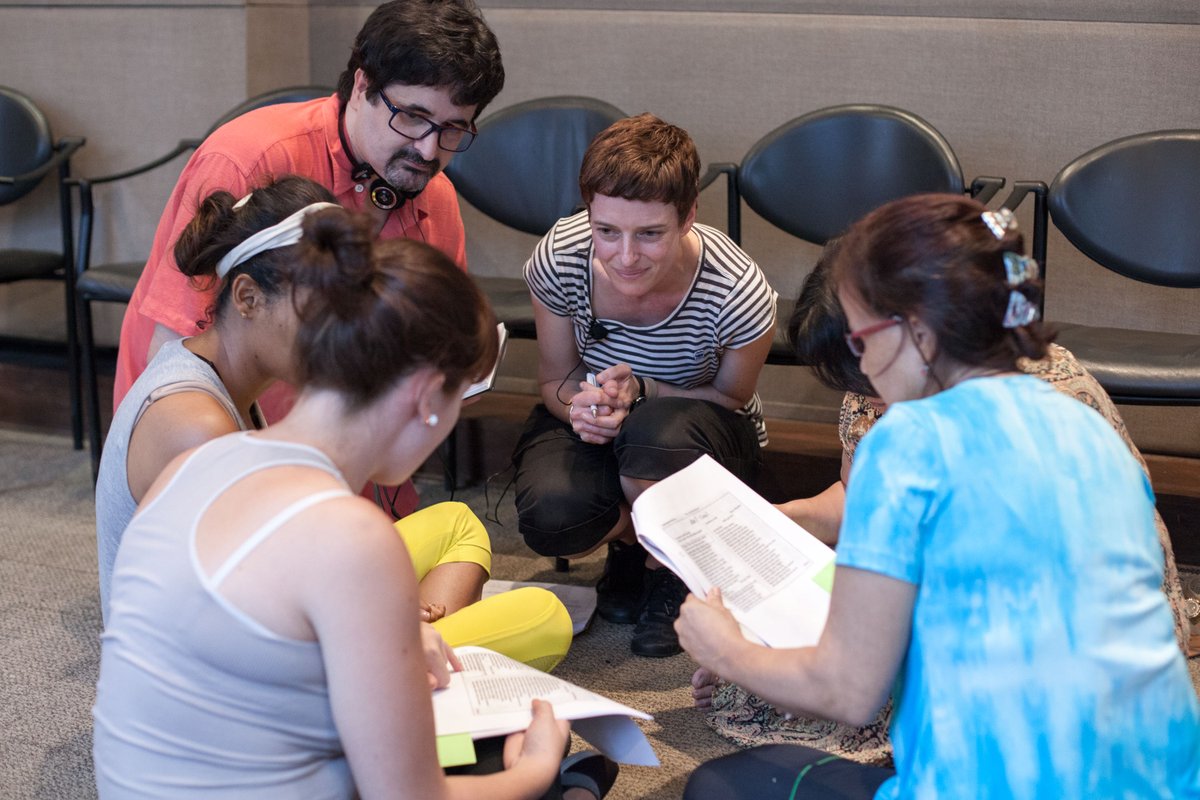 Mojisola offers a remarkable example of this work in practice. As Director of Teaching and Learning, Catherine realized that a handful of students in the Queen Mary BA Drama program were on track to earn 2:2 degrees, but could do much more with a bit more support; she pulled their names, saw in them the traces of historical underprivilege, did some maths, and made it possible for them to be mentored to better degree outcomes. Quietly, no fuss—but lives were changed forever. Sarah remembers Catherine committing exactly the same graft to the work of TA support: she convened difficult discussions, took flak for the department, set boundaries, offered space to share openly, then made attainable promises around wages and conditions and got proper results for the young people who needed them most. "Doing the boring stuff, paying attention to details, looking at structure," Mojisola notes, leaves in Catherine's wake a legacy of what Sarah calls "real, tangible, difficult change."
Pedagogies of Care
Our conversation, Ben reminds us, keeps coming back to this word: care. Every aspect of Catherine's work for, and conduct among, her students and peers was infused with a "sense of civic care." To be Catherine's student was to encounter someone who was always willing to be vulnerable, because she saw herself as no more nor less than them. She was even more nervous than the MA candidate sat in front of her at interview, happy to share that she, too, found these sorts of formal public situations awkward, uncomfortable. She was someone who listened to your words with mouth slightly open, eyes alert, seeing you, hearing you—but properly. She was someone in whose classroom you knew you needed to be, because what teacher takes such serious interest in the most mundane things, always giving you the benefit of the doubt, listening with infinite patience, knowing she can never understand the circumstances shaping the moment in which you come to her in need?
Anna calls Catherine "powerfully unassuming": extraordinary in her capacity to elevate our ordinary lives, to lift up tiny details for generous attention, precisely because it's the little, human things that so affect our capacities to teach and to learn. Catriona, Sarah, and Caoimhe were all Catherine's PhD supervisees at the same time, and yet, they recall now, they all emerged with independent writing styles, separate senses of scholarly self, because as Catriona puts is, "the way that Catherine shaped you as a scholar was about the way you think." Mojisola calls this Catherine's capacity to demonstrate the southern African philosophy of Ubuntu: "Ubuntu means, I am who I am because you are who you are. I am me through you and you are you through me."
"Perhaps Your Problem Contains its Own Solution"
Catriona parrots this Catherine-ism and we all laugh, delighted for a moment, remembering. And then a pause. What, dearest Catherine, is the solution to this problem, this great loss of ours, our loss of you? There may be only one: to live your legacy as you would have done, with no ego, with firm allyship, with strongest commitment to the most vulnerable among us and also within ourselves.
Mojisola made a list to help us imagine what this solution might look like. Catherine would have loved it (after being embarrassed for a moment to be caught in the spotlight, of course).
Listen without prejudice.
Listen without bias.
Listen without interrupting.
Attend to the detail.
Dig as deep as you can.
Don't be afraid of boredom. (The boring stuff is what gets the job done.)
Turn the question around.
Wait patiently for the answers.
Accept people. Believe your students. Then they will feel believed in.
Don't be afraid of the mundane work that is part of dismantling discrimination.
Let your students teach you. Everyone is an expert in their own lives.
Give praise generously, when it is due.
Never forget to love, to be loved, and to dance.