AC readers, I have exciting news. Our very own Kim Solga has won the Edward G. Pleva Award for Excellence in Teaching at Western University!
A standing ovation from the crowd! So much applause! A dance party (at a safe distance)!

"The Pleva", as it's known at Western, is the university's top achievement in teaching for tenured faculty (there are other prizes for faculty on shorter-term contracts, and pre-tenured faculty – a prize Kim also won in 2009). In this win, Kim joins several other distinguished former winners in her department (English and Writing Studies), one of the most decorated band of teachers on Western's campus. (Read more about Kim's win here.)
Being thoroughly herself, though, Kim is wary to do too much horn-tooting. So, rather than fan-girling over Kim's pedagogical excellence in a post of my own, I decided to interview her to get her most up-to-date teaching reflections.
KELSEY: Teaching as activism has been a central tenet of your pedagogical practice. How has your understanding of teaching as activism evolved in the last five years?
KIM: Great question. When I first used the phrase "the activist classroom" it was 2011, and I was thinking of activism specifically in terms of "activation" – activating students' imaginations, engagement with big ideas, curiosity; empowering students as informed citizens, helping them to believe in their own value and worth as smart, capable humans.
Today, the popular landscape of "activism" has changed significantly and importantly – this is something I've been very aware of as the AC has changed over time, too. And although I've never identified as an activist (specifically because public activism takes LOADS of work that I do not do, but which I very much respect and admire), I have come to recognize activist teaching as teaching that, among other things, informs and invites students to think carefully about activist practices in the world at large.
This year has provided a really useful example of what I mean by this. The activism in my teaching over Fall/Winter 2020-21 has manifested as:
a firm commitment to work in decolonizing ways in all of my classes, and to shape my winter-term class, which I talked about in my last post, specifically around Indigenous performance and decolonizing initiatives in Toronto's performance industries;
a focus on Indigenous and Black anti-racist activism in my fall-term class, Performance Beyond Theatres, which I teach in conjunction with a course in Community Psychology at Western as well as City Studio London;
incorporating information about social movements like Black Lives Matter, Extinction Rebellion, Idle No More, Me Too, and much more into classroom discussions and readings whenever possible;
introducing students to the ways in which scholar-practitioners in applied theatre and performance create work with and for communities in the service of social change every day, and giving students the chance to try their ideas out in practice.
I want to emphasize here that, for me, a lot of this work is about learning as we go, too. Like every settler scholar not steeped in Indigenous studies, I'm learning how to practice decolonial pedagogy, and getting plenty of things wrong. And I'm not trained as an Applied Theatre practitioner, either. So this has been about reading new stuff, talking to colleagues and inviting them to visit the class on Zoom, inviting loads of artists on the front-lines of performance activism to come speak and share work with us, and of course paying everyone properly.
I guess that means the short answer to your question, Kelsey, is: for me today, activist teaching means continuing to be humble about what I don't know, learning from those who do, putting energy into that learning and making it a transparent process with my students, and sharing all the resources at my disposal (including my university's money!) to support those for whom activism is not just pedagogy, but hard-won action.
KELSEY: Awards offer opportunities to reflect but also look forward. Where do you envision teaching taking you in the next five years? In what areas are you looking to develop your practice?
KIM: This is, in fact, not the only teaching award I've had the honour to receive in the last 12 months; last June I was named one of Western's new Experiential Learning Innovation Scholars. That's a project-based prize, and it's going to fund a new cross-faculty course I'm cooking up called Building A Creative Campus.
The class pivots around the core Performance Studies concept that "performance" as we study it is interdisciplinary, and PS is the fulcrum around which the gathering and cross-hatching of new ideas in a range of fields can pivot. (Natalie Alvarez talks about this brilliantly in the interview she gave for my 2019 and 2020 publications on theatre and performance in the neoliberal university; read it here.) The class will feature 15-20 undergraduates from up to 8 faculties at Western engaging in a fall term of exploration with guest speakers from medicine to social work to engineering to policing, followed by a winter term Community-Engaged Learning (CEL) placement in our community of London-Middlesex County, Ontario. I'm working on it with my colleagues Sandra Smeltzer (a media and CEL scholar) and Mary Daley (a math guy who is also a data scientist and a musician).
That project is a full-on teaching-research commitment, and it's got a very steep learning curve attached. I'm already discovering how to build large-scale mixed-methods surveys as part of my pre-assessment work, and in the fall Sandy and I (along with two grad students and two undergrad researchers) will be running focus group discussions with stakeholders from all across our campus. The course will be built in 2022 and run in 2023; while it runs, I'll be coordinating it, and also helping to measure our qualitative data. (Everyone in the class will be a research subject. I get a headache thinking about the ethics applications I'm going to be filling out!!)
Over the next 5 years, then, I expect to learn a lot about best practices in teaching research (and to contribute my own learning to those!), to work a lot more collaboratively with both peers and students on teaching projects, and also to gain a crash course, thanks to Sandy, in quality CEL pedagogy. She's researching (among other things) CEL and mental health, and that's a really exciting and important avenue of pursuit.
KELSEY: Who or what is inspiring your pedagogical thinking right now?
KIM: As the above suggests, my terrific teaching peers and students inspire me! But apart from that (which has always been the case), I'm doing a lot of non-academic reading.
I'm investing in bedside memoirs: I recently read a new biography of Hannah Arendt, On Love And Tyranny by Ann Heberlein; there's Maggie O'Farrell's memoir I Am I Am I Am waiting for me when my current book is done; and I just ordered The Argonauts by Maggie Nelson, which I somehow missed when it was released. I find the combination of thoughtful argument and accessible prose, plus the strategy of storytelling as critical engagement, not only moving but also an important reminder that positivist, Eurocentric, jargon-filled argument-building is not the only way to say the things and sound smart while saying them.
I take these ideas into my classrooms when I explain to my students that creative essays are welcome, and then help them visualize what that might look like; I also use these ideas to remind me, and them, that storytelling – critical thinking embedded in worlding narratives – is the method practiced by many of the Indigenous scholars and artists I admire, and exposing students to these methodologies (and their attendant worldviews) is urgent work.
Personally, though, my memoir obsession is also selfish: I've been thinking for a while now about writing one of my own, and I want to learn how. I want to tell the story of my background, of becoming a professor after being the first person in my entire family to go to college. I think it will be a teaching memoir too, at least partly, because the story of my growing into my career is all about the amazing, supportive teachers I had along the way.
KELSEY: What are the most pressing questions for post-secondary teaching as we brave the COVID-19 pandemic in spring 2021?
KIM: I am excited to report that I'm about to go on sabbatical, so I don't care! BWAHAHAHAHA!
No, seriously. Joking aside, I think every one of us who is burned out and 30 seconds from bursting into tears – students, staff, faculty alike – need to take at least a couple of weeks this summer to Just. Stop.
Stop and reflect. What did we learn? About ourselves? Our universities? Each other? Our systems? We need to think about what to keep and what to change. About what to build.
Things I learned include:
office hours/meetings while walking the dog are amazing and refreshing and creative;
I need a new laptop;
developing and sustaining functional movement is way more important than lifting your PR or maxing out your reps (go here to get a clearer picture of what I mean – don't think I don't like a nice kettle bell swing!);
more and better technology allows us to innovate in our classrooms, and we need to invest in the tools and the training and the people to support it all, at a structural level;
the climate emergency did not go away, so thinking sustainably in all elements of course design (and when planning conference engagements…) remains urgent;
nothing beats live in person, at least 75% of the time. Performers know it best: face to face generates learning that cannot be replicated on a screen, no matter how hard you try. Let's keep our new tech, sure – there are lots of times it's amazing. But let's never take our in-person interactions for granted ever again.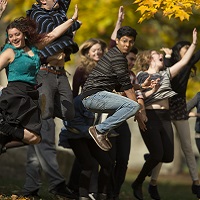 KELSEY: Totally superfluous question. Academic conferences are largely still online, meaning that Summer 2021 won't have the typical conference circuits. What are your summer 2021 plans?
KIM: Honestly, gardening! Sitting on my back porch. Walking my dog and riding my bike. This may be the first summer in history I don't have to travel – can't go anywhere! – so I'm going to embrace it. All summers, truly, should start with us giving ourselves a nice break.